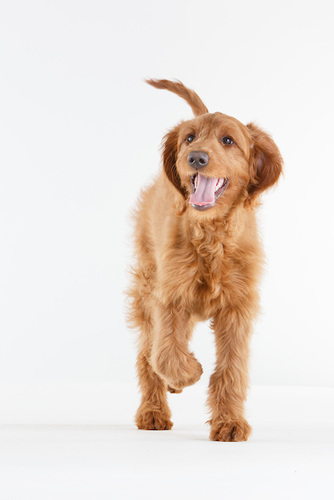 Ruby
Ruby's mom, Sue, came to me even before Ruby was delivered to the house as a Christmas Day surprise to the family.  Sue wanted to get Ruby off on the right paw and having never had a dog before knew they were going to need help.  We set up Ruby's first lesson only a few days after she came home to go over all questions they had at the time.
"Ruby is our first dog and we needed help getting ideas and tools to help us teach her how to become a great family dog.  Christa helped by giving us easy and very useful ideas on how to start training our new puppy.  First, she helped us in getting Ruby used to and comfortable being in her kennel.  She is so comfortable (now) in her kennel we just have to say the word and she goes right in."
"Second, and this is a little embarrassing, when Ruby arrived at our house on Christmas Eve, the only way she could 'go potty' was if we took her out on a leash and walked her around.  Now I know it has been a mild winter, but walking your dog ten times a day gets old and cold!  We talked to Christa about this and she told us to use a tie-out.  Such an obvious thing, but unknown to us as new dog owners."
So, we went over everything puppy from potty training, kennel training, teaching sit, having proper interactions with the children and more.  I gave Sue handouts to read on general puppy care and answered their very specific questions.
Sue decided after about 6 weeks to send Ruby for my puppy board and train program to work on some very specific things that they were still struggling with at home.  Ruby was being a normal puppy however some of the behaviors where making life difficult.
"Taking Ruby for walks was a challenge because she just wanted to play with the leash or nip at our ankles and after 2 weeks with Christa, she walks almost at a 'heel' and the nipping has stopped."
"Ruby used to 'guard' certain bones and Christa has taught her and us how to easily help her 'drop' it without fear and anxiety- even my 10-year-old can get Ruby to 'drop it.'"
Ruby is a great puppy who just needed a little direction on what was expected of her.  While Ruby was with me we did many things, and traveled to many different places.  One thing Ruby got to do was go to a photo shoot with a photo company that does advertising.  The pictures are a few of the pictures that they took.  You just never know what you are going to do when you come to a board and train at Prodigy Pups Dog Training.
"Having a new puppy is a lot of work, but by teaching them the "fundamentals" right off the bat, like Christa did, we are well on our way to a well-behaved adult dog.
Thank you, Christa, for your knowledge and hard work.
The Jones Family"